You guessed it already thanks to the "nano" part of the name, we're a tiny team of only three people : )
Please note there is no order of importance in this list, we all three make decisions, participate in game design, and speak for the team on social media and stuff!
– HERVE BARBARESI – "Pixel crafter"

Herve is a graphic artist for many years now and makes sure everything is clean, charming and shiny.
Here are some of his previous works you could know: "Maestro! Jump in Music", "Pang Adventures", and "Pix the Cat". (Pastagames)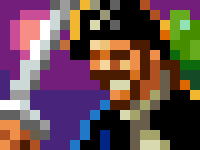 – FLORIAN SCIBERRAS – "Bug fighter"
Florian handles everything code related and kindly explains machines in simple terms to the two other kids who can't read binary good.
His previous works include "Rayman: Jungle Run" (Pastagames), "City of love : Paris" (Ubisoft) and "Dishonored: Death of the Outsider" (Arkane Studios).



– AURELIEN REGARD – "Jack-of-all-stats"
Many years ago, Aurelien co-founded Arkedo studio ("Nervous Brickdown", "Big Bang Mini", "HellYeah!") and since then makes graphics, music, or anything else needed as long as it's not actually working code ("Away", "The Next Penelope").